HCMC, November 10, 2022 – Sparx* – a Virtuos Studio held the awarding ceremony of the second edition of its Women Game Changers Scholarships for 8 female students from: University of Architecture Ho Chi Minh City, HCMC University of Fine Arts, and Arena Multimedia.
NURTURING FEMALE TALENT'S DREAM OF BECOMING GAME ARTISTS
The Women Game Changers (WGC) scholarship initiative aims to empower female students to participate and thrive in the game and film production industry.
Hoai Thuong – Character Team Lead at Sparx* and member of this year's scholarship board shared: "In this 2022 scholarship, the girls have exceeded my expectations. They have excellently demonstrated their passion and competencies throughout all the scholarship selection rounds. At the same time, they have also proven to the scholarship committee that one totally can defy themselves, regardless of their identity and gender, to pursue your dream to succeed in the game and film industry. I hope more programs similar to Women Game Changers will be available to provide female artists with more opportunities to fulfill their dreams and showcase their talents to everyone.
This year, 8 excellent female students from partner schools have been awarded the Women Game Changers scholarships by Sparx*- a Virtuos Studio. Each will receive 10,000,000 VND in cash and one slot in the Pro-Class training program – an online course based on the real game production environment. In addition, they will also receive additional mentorship to improve their personal portfolio – which will give them an edge in the game and film art industry.
Thao Vy, University Of Fine Arts student, expressed her feelings:
"Receiving the email stating 'You have become a Women Game Changer' was one of my proudest and most memorable moments in 2022. As an aspiring artist, I have been finding great inspiration from playing games, which also influenced my current art style. This childhood hobby has sparked in me the dream of becoming a professional game artist."
In addition to financial support, the scholarship also brings positive energy, fueling female talent to find their footing on the journey to pursue their passions.
"For me, the WGC scholarship is both a reminder and encouragement that I am completely capable of pursuing this challenging yet exciting path. I am truly grateful to Sparx* for having believed in my potential to thrive in the field of game art, especially when I hadn't really believed in myself," shared Kim Chau, Arena Multimedia student.
Here are our scholarship recipients:
From Arena Multimedia:
Nguyen Thi Thuy Van
Duong Tran Kim Chau
From University of Architecture Ho Chi Minh City:
Le Thuy Trang
Nguyen Thanh Ngan
Nguyen Thi Thanh Thuy
From Ho Chi Minh City University of Fine Arts:
Truong Thi Thao Vy
Nguyen Tran Binh Khanh
Pham Trieu Chau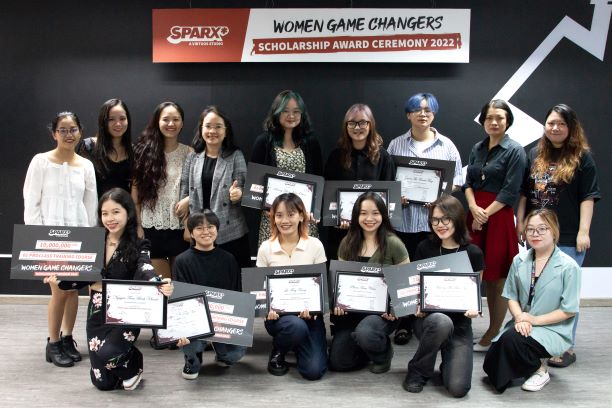 RECOGNIZING THE GROWTH OF 'WOMEN GAME CHANGERS'
One year after receiving the Women Game Changers 2021 scholarships, both Thanh Nha, an University of Architecture Ho Chi Minh City student, and Phuong Uyen, a HCMC University of Fine Arts student are still working hard to make their dreams come true in game art.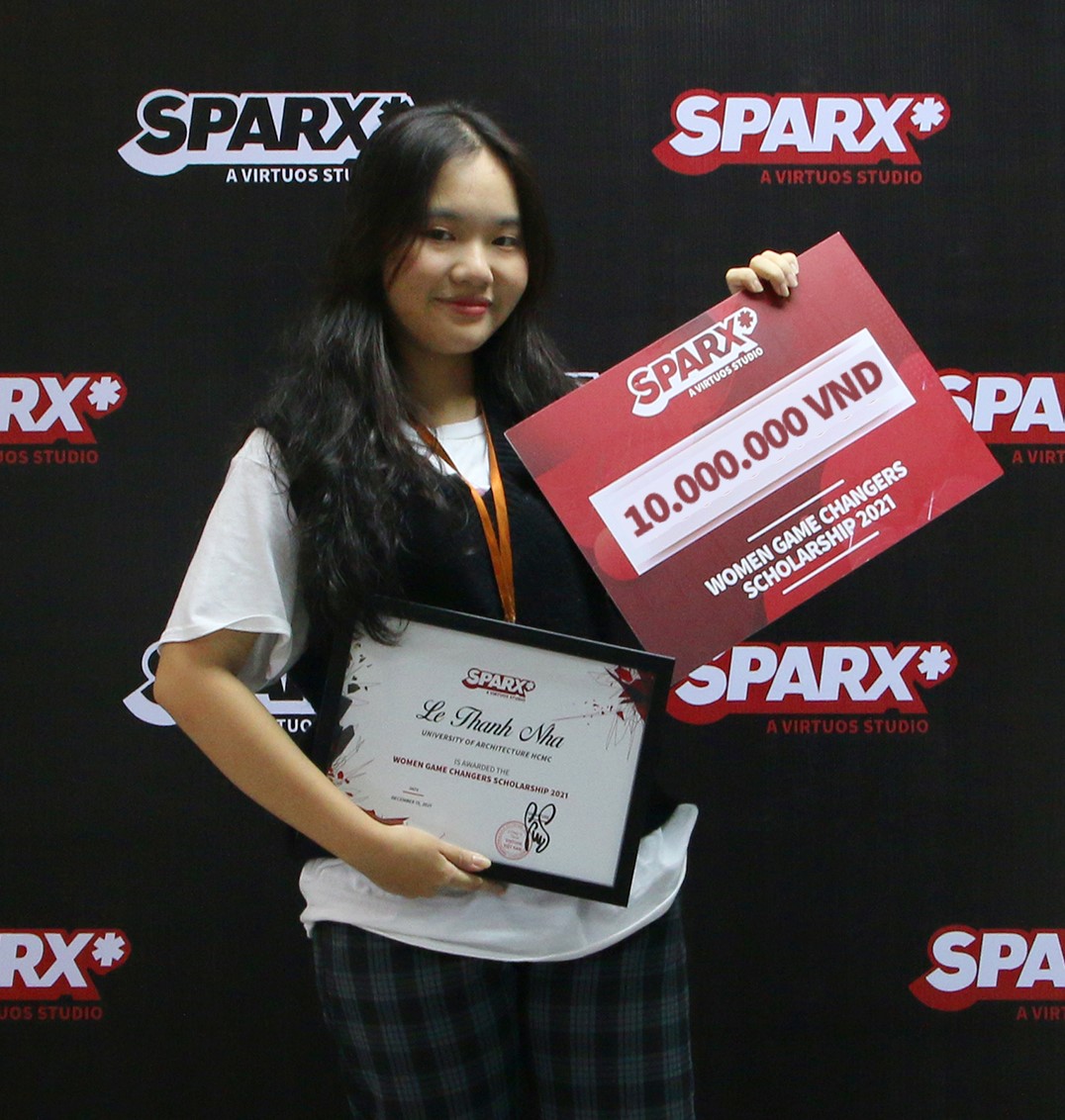 Thanh Nha – Recipient from University of Architecture Ho Chi Minh City
"With the scholarship from Sparx*, I found a clearer vision of what I want to achieve in Games and Films. Sparx* gave me a boost and helped me expand on my future plans and career path. Over the past year, I have been learning non-stop and improving both my technical skills and my aesthetic approaches. I have also gained some small but incredible and practical industry experiences," shared Phuong Uyen.
"The Women Game Changers scholarship is certainly a highlight in my personal profile, if not an advantage. I spent the funding on learning Blender and 3ds Max. Being able to use the software, I can now draw faster and have a wider access to the layout library when building 2D concepts. I am more confident in my work and also excited to show other girls how to apply for the scholarship," shared Thanh Nha. At the moment, Nha is working as a 2D Game Artist at Sonat Game, one of the prominent puzzle game developers in the country after completing her internship there.
For many years, Sparx* has been partnering with universities and training centers in the country to organize training and career orientation activities for thousands of young talent pursuing game arts, visual effects, and special effects. Through the Women Game Changers scholarship, Sparx* continues to carry out the mission of actively contributing to nurturing future female game artists who are expected to bring positive changes to the digital entertainment industry in Vietnam.