Ho Chi Minh City – 8 August 2022 – Sparx* – a Virtuos Studio is proud to kick off the 2nd year of Women Game Changers Scholarship for female students in Ho Chi Minh City in 2022.
First launched in 2021, Women Game Changers Scholarship is our initiative to empower more female students to join and develop careers in the game and film industry. We aim to build a more inclusive local game and film environment for female artists and animators, who must overcome more obstacles than their male peers when pursuing careers in this industry.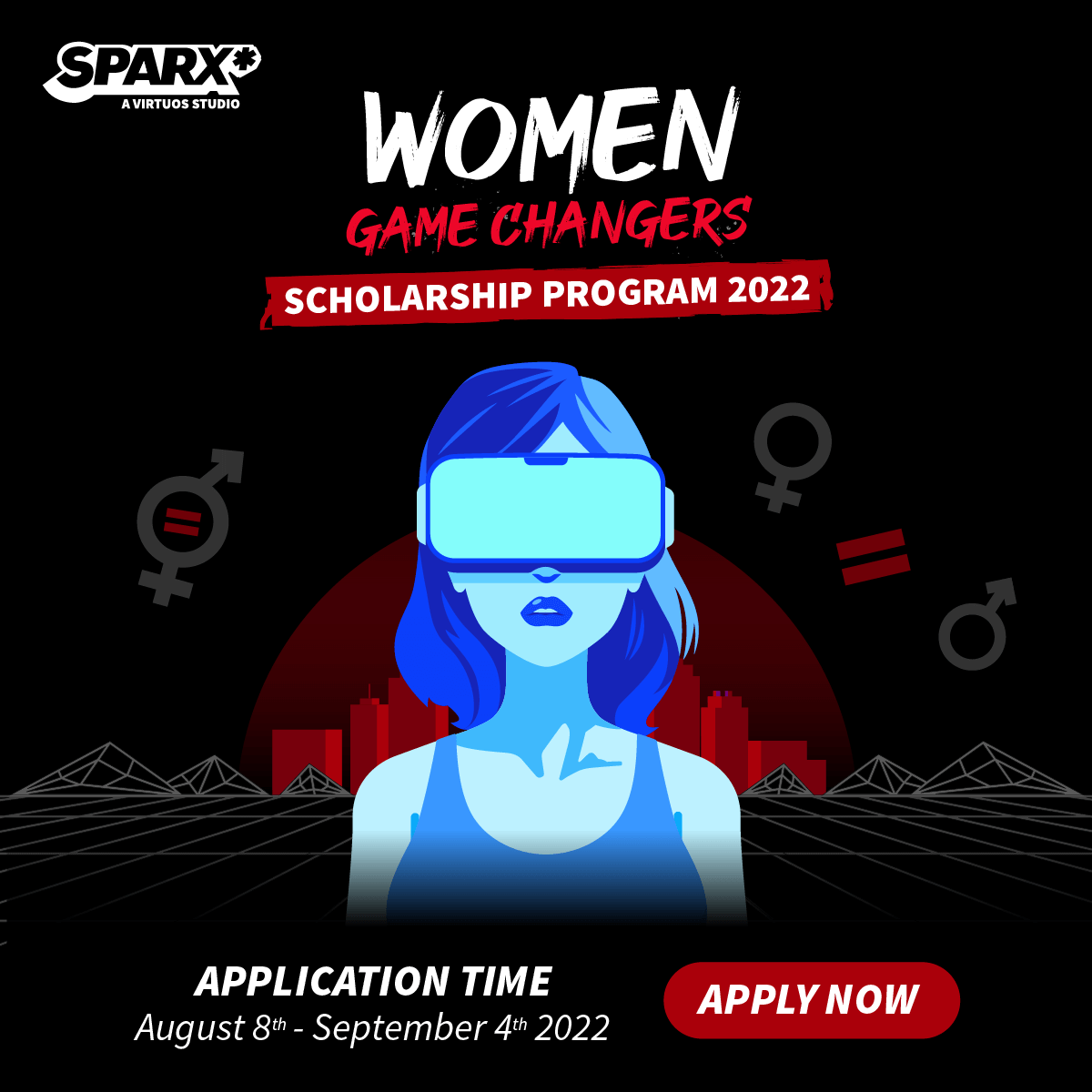 This year, Sparx* offers twelve scholarships for qualified female students at our partner institutions: Ho Chi Minh City University of Fine Arts (Industrial Art Faculty), University of Architecture Ho Chi Minh City (Industrial Design Faculty), MAAC Academy, and Arena Multimedia. Each recipient will receive a scholarship of 10,000,000 VND. Besides the financial support, the scholarship recipients will be provided with mentorship from the team at Sparx*, including coaching on career orientation, building personal portfolios, and insight into game and film production at the studio. They will also be eligible to join our Pro-Class – an online course about game pipeline in Unreal Engine taught by the studio's seasoned artists at Sparx*. The program will equip them with skills and knowledge aligned with the industry's requirements and help them be better prepared when starting their professional career.
To be qualified for the scholarship, applicants must:
Be an undergraduate student in their final year/ final semester at Sparx*'s partner institutions
Have good academic achievements
Demonstrate interest in pursuing a career in game and film production through their application form and interview performance
Our judge panel, including industry veterans at Sparx* and faculty members from our partner institutions, will assess and select the winners. Representing Sparx* in the judge panelists are:
Ms. Yen Phuong – Associate Art Director, Environment
Ms. Hoai Thuong, Team Lead, Character
Ms. Chan Tu, Senior Art Producer, LFX
Ms. Thuy Duong, Senior Art Producer, Environment
Ms. Nhu Quynh, Senior Recruiter
Ms. My Duyen, Recruiter
The application is open until 4 September. We will announce the scholarship winners in late October.
As one of the leading game art and animation studios in Vietnam, and a part of Virtuos, we are committed to supporting and nurturing the next generation of local artists and animators in Vietnam, especially females. Through the Women Game Changers Scholarship, we hope to continue embracing our Corporate Social Responsibility (CSR) core values of Education, Environment, and Diversity in the local community.
"Though we have many famous female artists with cool works around the world, most people still see game art & animation as a playfield for males," said Ms. Chan Tu, Senior Art Producer at Sparx* shared. "I believe the Women Game Changers scholarships will support young female artists to grow their skills and find more opportunities to enter the industry."
Students interested in applying for the Women Game Changers Scholarship 2022 may visit:
For more information about the scholarship, please get in touch with [email protected].