In our Meet Your Mentor Series, we interview the mentors from our Trainee Programs about the learning opportunities at Sparx* and their advice to new artists.
Meet Minh Thuan, Character Trainer at Sparx*, who shares his exciting stories and experiences in character art with us.
As a Character Designer since 2014, Thuan has worked on a variety of projects, from architecture, cinematic games to character concept and high-quality character figures. In addition, Thuan has been teaching many specialized classes in 3D Art. As a self-taught character art designer, Thuan can understand new artists' needs and insights, so he always wants to support his Character Trainees to create suitable growth paths.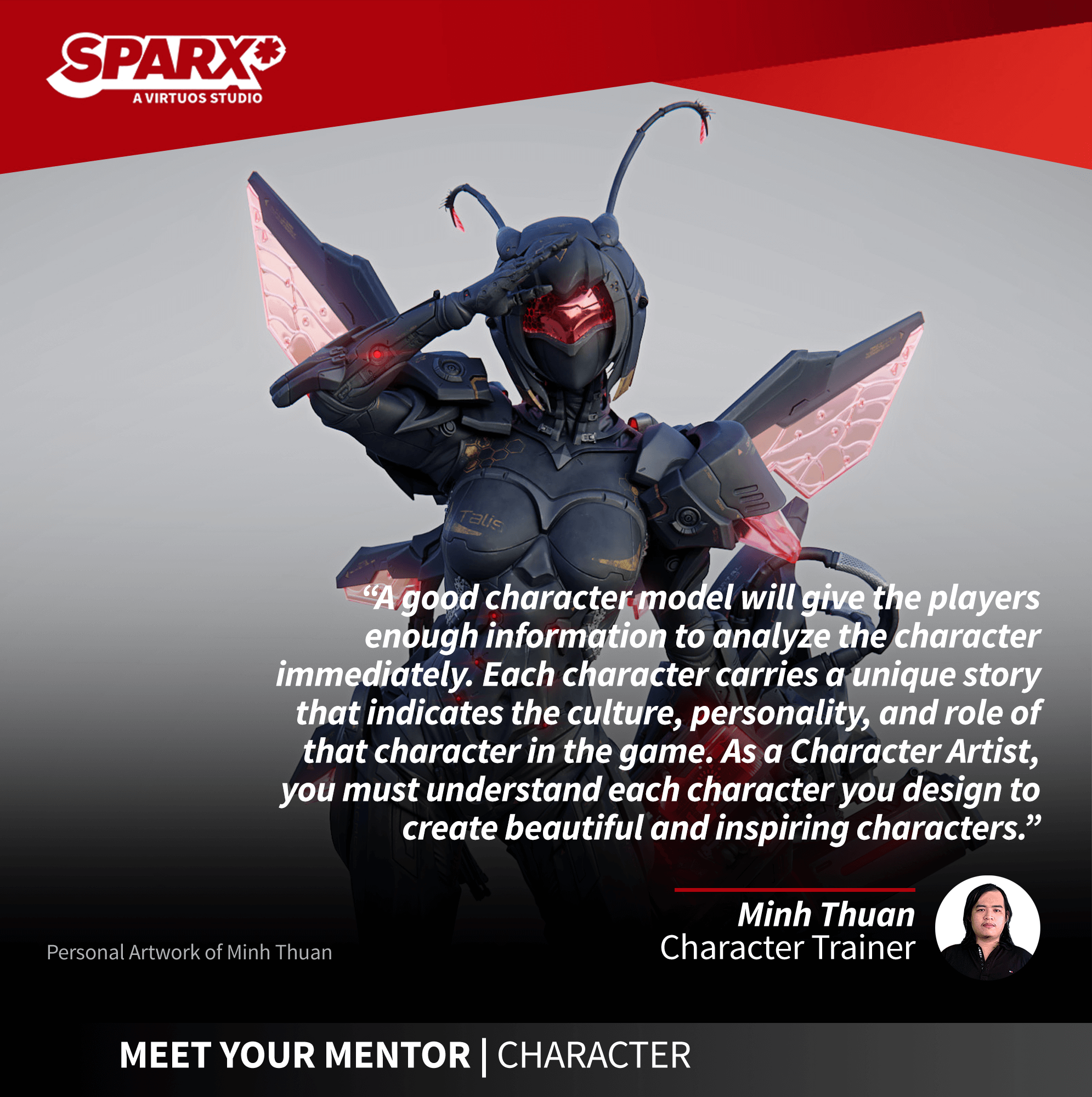 1. In your opinion, what is the most exciting thing about doing character model?
A good character model will give the players enough information to analyze the character immediately. Each character carries a unique story that indicates the culture, personality, and role of that character in the game. As a Character Artist, you must understand each character you design to create beautiful and inspiring characters.
That could be a respectable hero, a notorious thief, a cute cat, or the scariest demon from the dark.
2. What brought you to the Sparx* side working as a character artist?
Once, I saw a video about a character in my favorite game – StarCraft, I was so curious that I wanted to learn how to make such characters. Then I started to self-learn and worked as a freelancer. When I found an opportunity to share my experience with young talent at Sparx*, I went for it immediately.
The process of making a character can be challenging. That being said, once you have already overcome the initial knowledge barrier, you will find much joy in the art of character design and modelling. As a trainer, I will accompany the trainees to help them find that joy and love.
3. What do you like the most about the role of a trainer?
I always feel proud to see my trainees overcome obstacles in new project and gradually improve their skills.
Trainers should be the ones who understand well the difficulties their trainees are facing. They will design the most suitable paths to help trainees learn how to tackle issues at work and grow better. This is what I love the most about being a trainer – to be able to accompany and support the next generations of artists.
4. What will trainees learn and do in the Training Program of our Character Department?
When you join the Training Program for Character Art at Sparx*, you will be exposed to all aspects of what it takes to design a character. You can learn how to make from realistic to stylized characters, study anatomy, and others essential knowledge that will be needed in production.
Don't let the overwhelming amount of knowledge discourage you. The training program is designed to find your greatest strengths at work and help you develop them further.
5. After the Training Program, how can trainees continue to grow as Character artists?
The Training Program at Sparx* provide you a solid foundation to be ready to enter the industry. In addition, trainers like me can provide custom career orientation for each trainee based on their strengths and interests.
Working on projects at the studio, you will soon find your favorite styles of character art. In the game world, the character styles are so diverse and are usually divided into either realistic or stylized. Once you have found your preference, and put that into your works, trainers will try to bring you opportunities to follow that preference.
6. Do you have any advice for our next Character Trainees?
Since trainees will learn and practice throughout the training program under production-like conditions and standards, trainees must possess basic skills in order to be able to complete the program.
You must be familiar with Maya, Substance Painter, and Zbrush software in advance, plus some general knowledge of anatomy. In addition, you should try to create a few game assets to enrich your portfolio when applying for the program.
Become a Character Trainee at Sparx*
The Trainee Program supports young people to get closer to the opportunity to become AAA artists by equipping them with knowledge and getting used to their first real projects when being mentored by senior artists of the studio.
As a Character Artist, you will create game and movie characters: human, animals, beasts and superheroes. Become a Character Trainee and grow with Sparx*:
Sculpting skills for a variety of genres from 'stylized' to 'realistic' and knowledge of anatomy
Direct participation in the production of 3D Character model products of the project
What you need:
Understand and apply knowledge of Anatomy.
Basic sculpting skills
Proficient in using Maya, Substance Painter, Zbrush
Adapt quickly to new tools or techniques.
Good eyesight and attention to detail
What is in it for you:
Add multiple AAA Games, Hollywood block-buster movies, and award-winning TV Series to your portfolio every year;
Join an elite, international team to work with and learn from industry experts;
Collaborate with the world's leading game developers and film studios;
Develop your expertise with exposure to the latest platforms, tools, and technology;
Develop an international career in top-tier digital production within an industry-leading company.
THERE ARE A FEW STEPS FROM YOUR APPLICATION TO JOIN THE SPARX* SIDE!
Application Submission
1. CV
2. A portfolio of complete 3D products (including Hipoly, Lowpoly, UV Mapping, Bake, Texture), sculpt exercises in Zbrush, exercises to show understanding and knowledge of anatomy
Art & Technical Test
1. Hand drawing (sketch) on A4 paper
2. Model & Texture practice in Maya/Blender and Substance. Learning more about Marvelous Design is a plus
3. Sculpt in Zbrush
Interview with the Sparx* Team