Being able to regularly reach out to new talent to help them develop and thrive in 3D game arts, animation, and visual effects has always been a great pride of Sparx*. In October 2022, Sparx* has partnered with 9 universities and training centers to organize career orientation activities for young talents with a passion for AAA games. Let's take a look back at the studio's journey in October!
Co-organizing career orientation activities
1. Bach Khoa Career Fair
On October 8, Sparx* had an awesome Saturday as we welcomed hundreds of students to the studio's exhibition booth at the Bach Khoa Career Fair 2022. At the career fair, the students had the opportunity to learn more about the game industry in Vietnam and job opportunities at the studio.
2. Studio Tour
Studio Tour is a regular activity for students from Sparx*'s partner universities and training centers. Through this activity, young talents can visit and experience the working environment at one of the leading art and game production studios in our country.
During this month, Sparx* was also pleased to host 2 Studio Tours for students from HEN Animation Class (October 12) and HCMC FPT University (October 21).
Exclusively for animation enthusiasts from HEN, Sparx* held a talk show on the topic 'How to become a great Animator?'. Through the insights shared by our guest speakers, Patrice – Senior Animation Director, Le Vinh – Animation Director, and Nhat Giang – Animation Director at Sparx*, the students got a glimpse at the typical journey of becoming 3D animators and how to train themselves in order to gain more knowledge and expertise.
For the FPT University art students' visit, My Duyen – Recruiter at Sparx* shared some hot tips on how to build an impressive portfolio to successfully land jobs at game studios.
3. 'Building effective CVs and portfolios' Workshop – HCMC University of Fine Arts
Taking place on October 17, the workshop attracted over 150 students from the HCMC University of Fine Arts. At the gathering, My Duyen – Recruiter at Sparx* talked about the do's and don'ts when writing a CV and building a portfolio, how to increase the chances of recruiters finding you on platforms such as ArtStation, as well as tips on preparing for a successful interview.
4. FPT Arena graduation project defense ceremony
Sparx* was honored to be invited by FPT Arena to the graduation project presentation of class A2.2010.A3, and during which we witnessed an important development milestone of the students after their 2 years studying at the school. Representing the studio's recruitment department, My Duyen and Nguyet Anh also shared with the soon-to-be graduates about internship and development opportunities from Sparx* for students after graduation.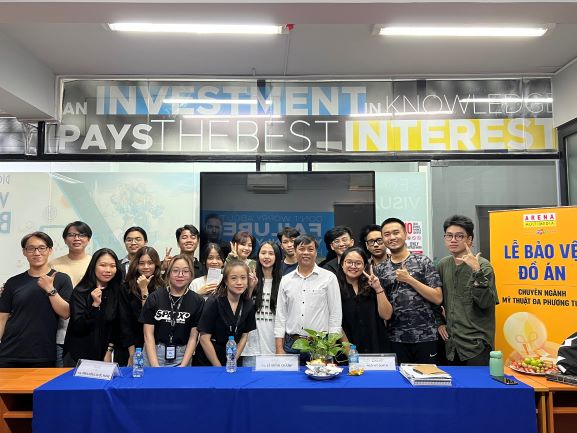 Image courtesy of FPT Arena
5. 'Becoming AAA Artists' Workshop – FPT University
On October 28, Sparx* brought to FPT University students a workshop on the hot topic of "Becoming AAA Artists."
At the workshop, Michal Hoz – Character Director at Sparx* offered his advice: "When you work with clients, don't think of yourself simply as their outsourced vendors. Instead, consider yourself an extension of their team, an important partner who will help them complete their project excellently. That's how you gain the confidence to do your job and the positive mindset necessary to create compelling characters in games."
6. Open Day – HCMC VTC Academy
In the talk show 'Manipulating recruiters', Nhu Quynh – Senior Recruiter at Sparx* talked about the trends and developments in the gaming industry over the years. On top of that, Quynh also shared about the explosion of job opportunities in the game industry and how you could get into this industry.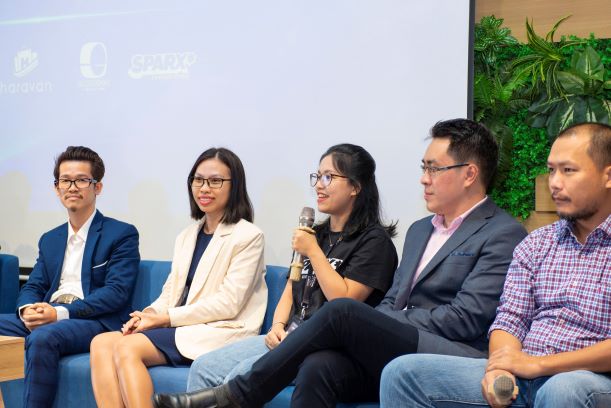 Image courtesy of VTC Academy
7. Graduation Ceremony – Arena Multimedia
On October 30, Sparx* was excited to attend the graduation ceremony of over 300 new Arena Multimedia graduates of the academic year of 2020-2022. Congratulations to all the graduates and we hope you will soon achieve remarkable success in the journey you pursue.
SUPPORT WOMEN GAME CHANGERS AT SHOW IT NOW 2022
As a Gold Sponsor of Show It NOW 2022, Sparx* is pleased to offer 4 Women Game Changers awards for female contestants with great potentials from the Community Class in 4 different categories: Drawing – Photography – Design – Video.
Sparx* would like to congratulate our four Women Game Changers of this year's Show It NOW:
On behalf of the studio, Yen Phuong, Associate Art Director at Sparx*, shared at the ceremony: "As a digital entertainment studio, Sparx* is excited to contribute to the activities of the Vietnamese fine arts community and encourage more young people to pursue a career in content creation. We are honored to deliver the 'Women Game Changers' award at this year's contest to inspire and encourage young females who want to participate and develop in games, animation, and visual effects so that we can bring more female representatives to the industry."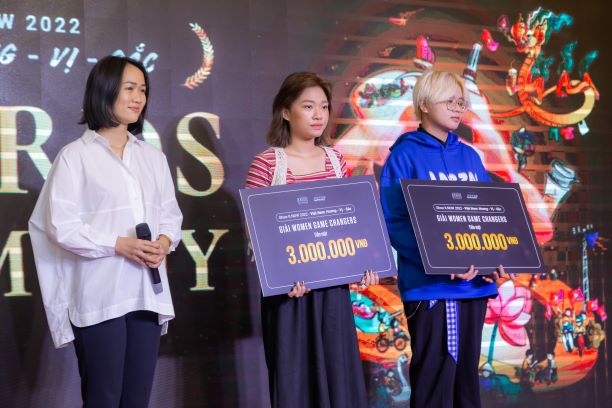 HOLD THE GRADUATION CEREMONY OF OUR FIRST BATCH IN PARTNERSHIP WITH APROTRAIN
On October 24, 2022, Sparx* held the graduation ceremony for the first season of the Pro-Class online training course with seven students from MAAC and Arena Multimedia.
This milestone has also marked a turning point on their journey to pursue the goal of becoming AAA artists. After three months of training, all seven students have passed the final assessment with flying colors and are, therefore, qualified to become trainees at the studio.
If you are interested in game development and production, let's keep an eye out for the upcoming Pro-Class on the Sparx* side!