HCMC – On October 24, 2022, 7 students from MAAC and Arena Multimedia officially graduated from the first Pro-Class training course – an exclusive program provided by Sparx* – a Virtuos Studio in partnership with APROTRAIN.
ENHANCING THE EXPERTISE OF 3D GAME ARTISTS WITH HIGH QUALITY TRAINING
Pro-Class is a co-op training program designed to cover the entire art production pipeline from briefing and conceptualizing to the very last stages of integration in game engines. Students are provided with knowledge about not only arts but also production technical models under the direct guidance of veteran seniors, leaders, and directors at Sparx*.
The first Pro-Class was co-developed and implemented by Sparx* and APROTRAIN, a Training Organization, exclusively for students from the Maya Academy of Advanced Cinematics (MAAC) and Arena Multimedia, a Network of Training Centers for Multimedia Arts.
After 3 months of training and passing the final assessment, all 7 Pro-Class graduates have officially become new trainees at the studio.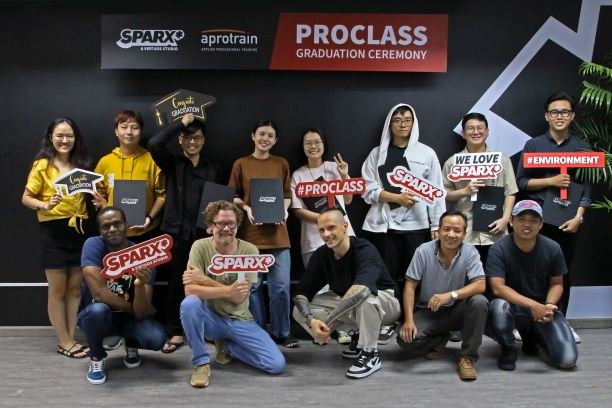 "The most important difference is that Pro-Class allows students to learn and get 'hands-on' experience with the latest pipelines and tools used in the industry. The Pro-Class curriculum was designed by game industry veterans at Sparx*. Students can learn first-hand how to use tools through demonstrations carried out by our senior artists who are working on the production of many major projects at the studio," shared Quoc Lich – our Pro-Class Lead Trainer on the highlights of the program.
"In this course, our students have learned and worked on almost the entire art production pipeline, from creating basic blocks to arranging assets in game engines," added Lich.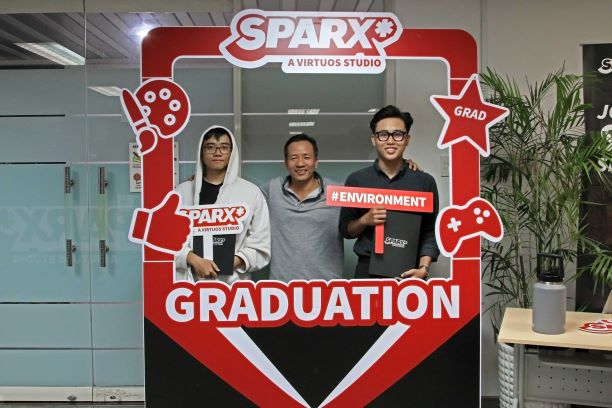 Our mentor Quoc Lich with Pro-Class graduates
PROACTIVELY SUPPORTING YOUNG TALENTS PURSUING THEIR PASSION WITH GAME PRODUCTION
An Tuong – MAAC student – spoke at the ceremony: "Since the very first Pro-Class lessons, I had my mind blown about the principles of modeling and texturing, along with observational skills to figure out how the objects in my surroundings function, and how they are formed and structured. During our training, our mentor Lich always set high bars for us and he was also quite strict with us. It motivated me to always deliver my best to complete my assignments and be responsible for each and every asset I created."
For optimal practice, every student was assigned a game artist at the studio to be their personal mentor. Our mentors were not only instructors but also companions to help Pro-Class students overcome their challenging weekly assignments.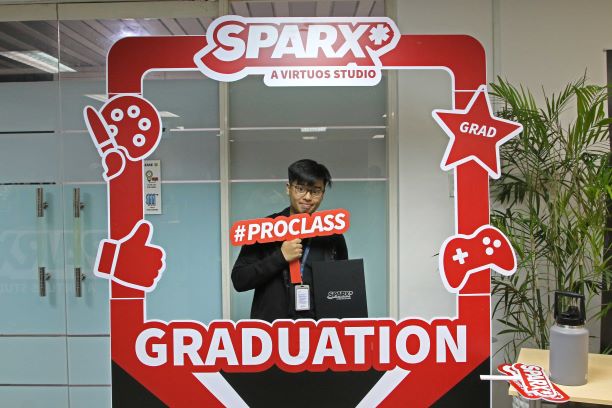 "My mentor Thanh Dat was truly dedicated to instructing me and my groupmates. He also spent a great deal of time correcting our assignments and giving us feedback. I am overjoyed that I have gained not only knowledge but also practical skills and valuable relationships in the industry after graduating from Pro-Class," explained An Tuong.
"Whenever I encountered any problem while doing my assignments, our mentors would help me figure it out and give me step-by-step instructions on how to improve and perfect my final work. I have acquired considerable knowledge and skills in modeling, sculpting, and especially, keeping up with a professional workflow," said Phuong Loan – an Arena Multimedia student.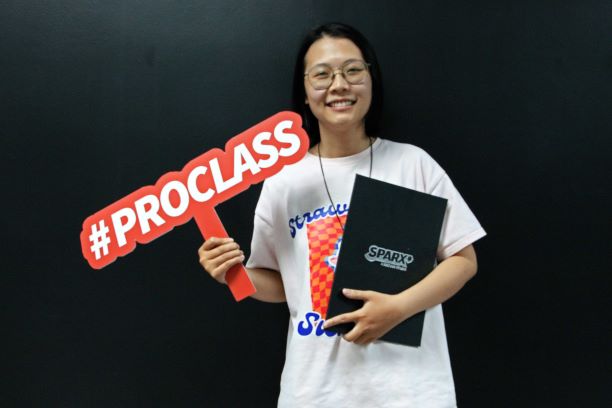 Phuong Loan – Arena Multimedia student
GAME PRODUCTION ENVIRONMENT: NARROWING THE GAP BETWEEN THEORY AND PRACTICE
When asked about the quality of Pro-Class graduates, Quoc Lich commented: "I highly appreciate our students' willingness to learn and their passion for game arts. Although they are not yet well-versed in using tools or analyzing shapes and colors, they always demonstrate their eagerness to gain more knowledge and experience. Most of the students completed their assignments brilliantly and reached the expected quality level. Those who have graduated from this training course are now qualified to participate in the AAA production pipeline.
Through Pro-Class, Sparx* and our training partners aim to nurture new generations of AAA game artists, getting them ready to take on world-class game projects. This is one of our efforts to resolve the issue of human resources in the domestic game art industry.
"This course has helped me shape my career aspirations and get closer to becoming a 3D game artist. I am very excited to join the Sparx* side and work with everyone," shared Phuong Loan.