VIRTUOS EXPERT TALKS #9
The ninth in a series of regular articles highlighting learnings and best practice from Virtuos' global development, Art and VFX teams.
In this installment, Technical Director Fernando Castillo and Technical Group Producer Huy Nguyen talk about how they tackled COVID-19 and remote working.
As the COVID-19 pandemic makes its way across the globe, millions around the world have taken to social isolation at some point in order to slow the spread of the virus. This massive shift in societal norms has consequently forced businesses to suspend operations or to rapidly adapt by any means necessary. As one of the few industries heavily reliant on computers as a means of production and distribution, digital entertainment companies such as Sparx* have largely remained operational by swiftly implementing remote working arrangements.
In Sparx*'s case, working from home was largely a concept that was only considered theoretically; all the pieces required for it to function was available, but a definite playbook had not yet been drafted, much less trialed.
At the time of writing, Sparx* has already reopened its studio premises, after having completed three full weeks of self-imposed work-from-home arrangements for all staff during the month of April this year. The COVID-19 risk, while not completely eradicated, has been reduced to such an extent that businesses in Ho Chi Minh City (where Sparx* is situated in) have already begun resuming operations.
All in all, the remote working experiment was a success, although there were plenty of lessons learned along the way. This article will attempt to explain those discoveries in more detail.
The Situation
Sparx*'s first inkling of the impending crisis surfaced in the days following the Lunar New Year celebrations.
By this time, the coronavirus had already been recognized as a major issue by the studio management, which prompted high level discussions regarding the proper measures needed to mitigate the risk of infection.
The idea of closing the entire studio was floated in the early stages, but was eventually discarded due to the following reasons:
Closing the studio would cause its commitments to lapse, potentially damaging Sparx*'s reputation and losing clients as a result.
Some staff might have to take pay reduction/unpaid leave if the lockdown prolonged, as this happened to other companies in the industry.
An inoperative studio would mean no means of securing new projects for the duration of the closure, which at the time had no definite end date in sight.
The only other alternative was to send people home, but to keep the studio open by allowing them to work from home. This proposal quickly gained majority favor, and an emergency strike team was hastily formed to organize and execute the shift towards remote working.
Within days, an action plan was drafted up, with trials beginning that very weekend.
Case Study: Riot Games
Riot Games was one of the first clients to reach out and inquire about Sparx*'s status regarding the COVID-19 situation. At that time, the plan to shift towards full remote working had just been drafted, which meant that they were one of the first clients to be notified about the studio's intentions. In addition, Sparx* also shared their proposed security method and projections for anticipated productivity loss when full remote working is achieved.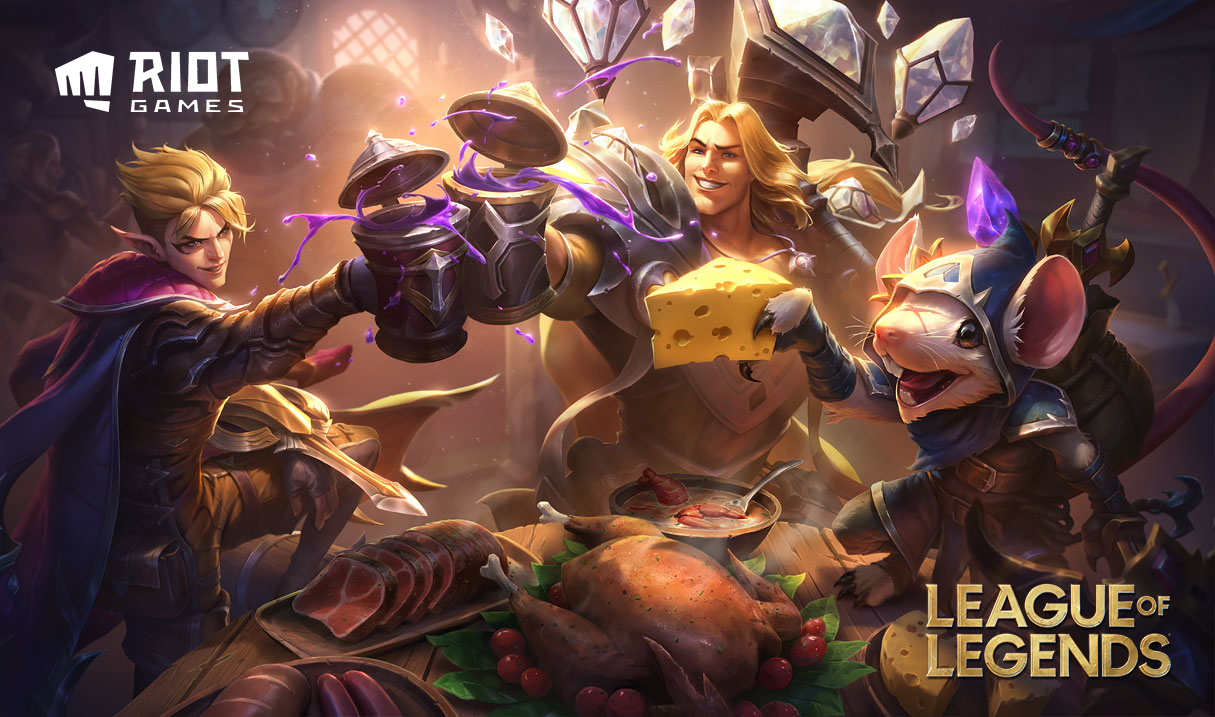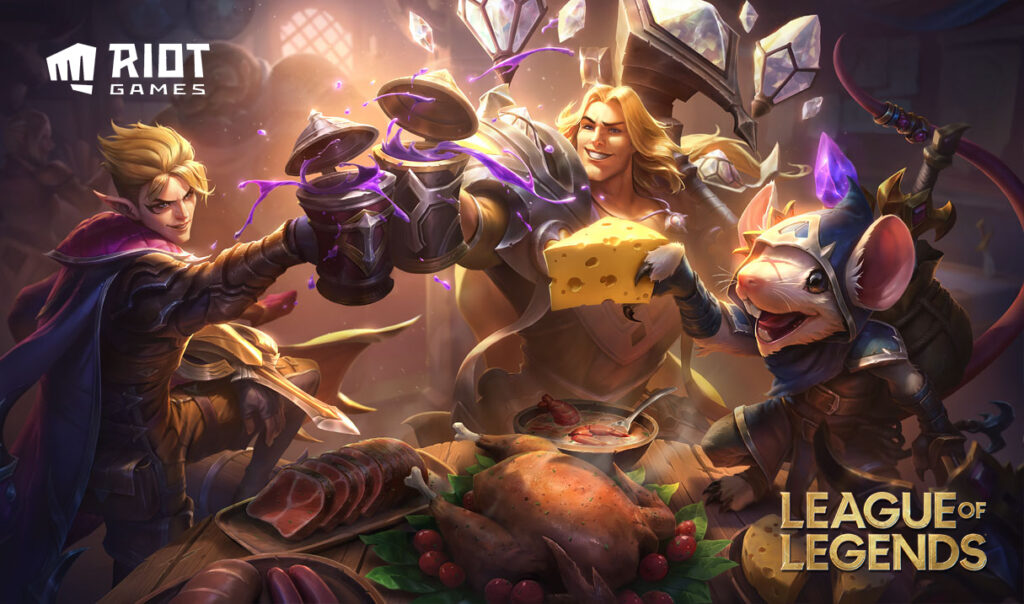 The eventual decision to select the teams working on Riot Games projects as the spearhead of this undertaking was based on several factors:
Riot Games showed explicit concern regarding the staff's wellbeing. Throughout the meetings, Riot continuously stressed the importance of ensuring the safety of Sparx*'s staff over their productivity output. Riot was also receptive to the proposal to implement full remote working, even though it was still unfamiliar territory ground for the studio.
Punctual delivery of Riot's project milestones was critical. As Riot's offerings are exclusively live service games (e.g. League of Legends), all future content is planned well in advance, which meant that delays in production would be highly disruptive for Riot as a client. Ensuring that Riot's production pipeline could continue uninterrupted was therefore critical.
Riot Games is considered a critical partner for Sparx*. With this unique relationship between the two entities, careful management of their projects was deemed necessary.
Implementing Remote Working: Problems and Solutions
There were three distinct issues that were encountered throughout the planning, testing and execution of the remote working arrangements, which were subsequently resolved via various measures.
Technical challenges
As an external developer, Sparx* often handles projects involving a myriad of work scopes, tools and game engines, which consequently require unique set-ups in order to function correctly.
While not an issue in a standard office environment, the incompatibilities of some game engines turned out to be particularly problematic when handled via remote working. This required extensive testing for multiple applications in order to find a suitable configuration that can support their use.
Another potential problem anticipated by the studio was the quality of equipment that staff members had access to at their homes, such as monitors, connection cables, or drawing tablets to name a few. In a pre-emptive move, Sparx*'s HR department sent out online surveys within the first few days to gauge staff readiness – if a person was found to not possess the required components, the studio would allow them to borrow what they needed from the studio.
In addition to hardware, all staff were also required to familiarize themselves with several remote desktop applications to ensure uninterrupted workflow:
TGX: a remote desktop application that utilizes a compression algorithm to increase bandwidth and optimize performance. This allowed Sparx*'s artists and animators to proceed with their work when interfacing with offsite workstations, with no disruptions caused by connection issues.
RemoteFX: An extension by Microsoft, RemoteFX is a Remote Desktop Protocol that optimizes the transfer of graphics information through remote connections, an advantage readily taken by the studio's FX artists.
Datacloak: An encryption program used for securing data housed in servers and workstations.
The heavy reliance on IT equipment and the ability to connect to them necessitated a well-established support system to ensure their reliability, prompting the following actions:
The creation of a technical support group chat on Zalo (a local social communication platform)
Assigning one Technical Artist and one IT executive to each team, for the exclusive purpose of addressing any technical issues affecting remote working capability.
The solving of these pain points consequently allowed Sparx* to proceed with the implementation of remote working for all studio staff.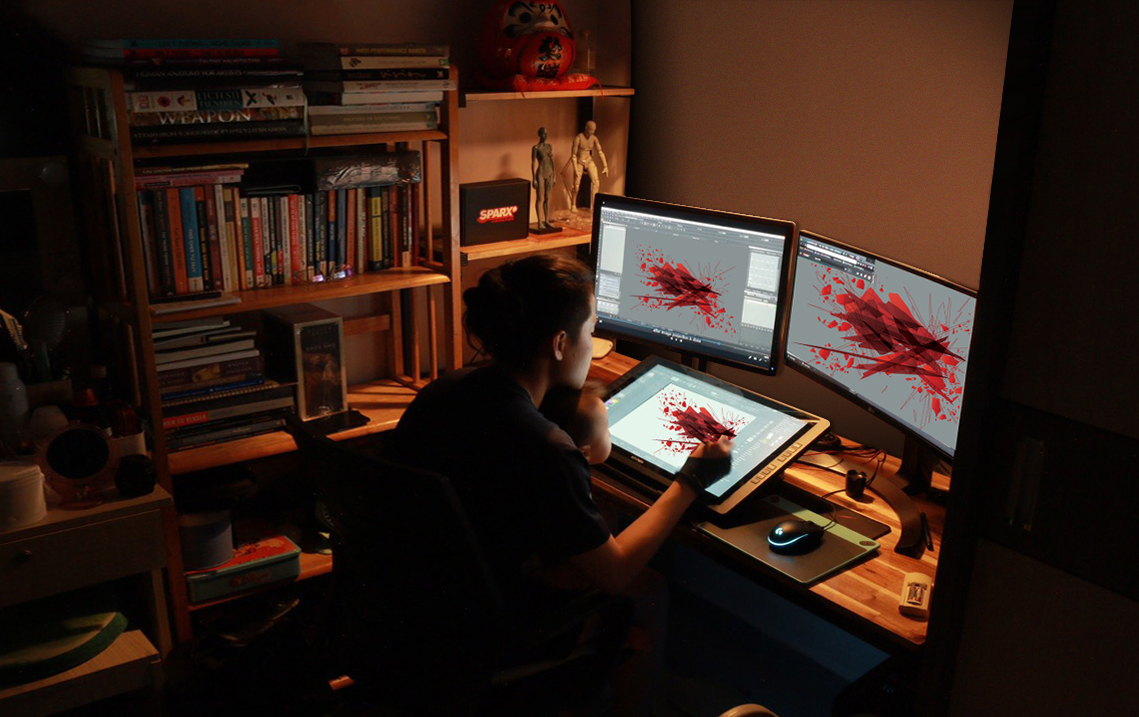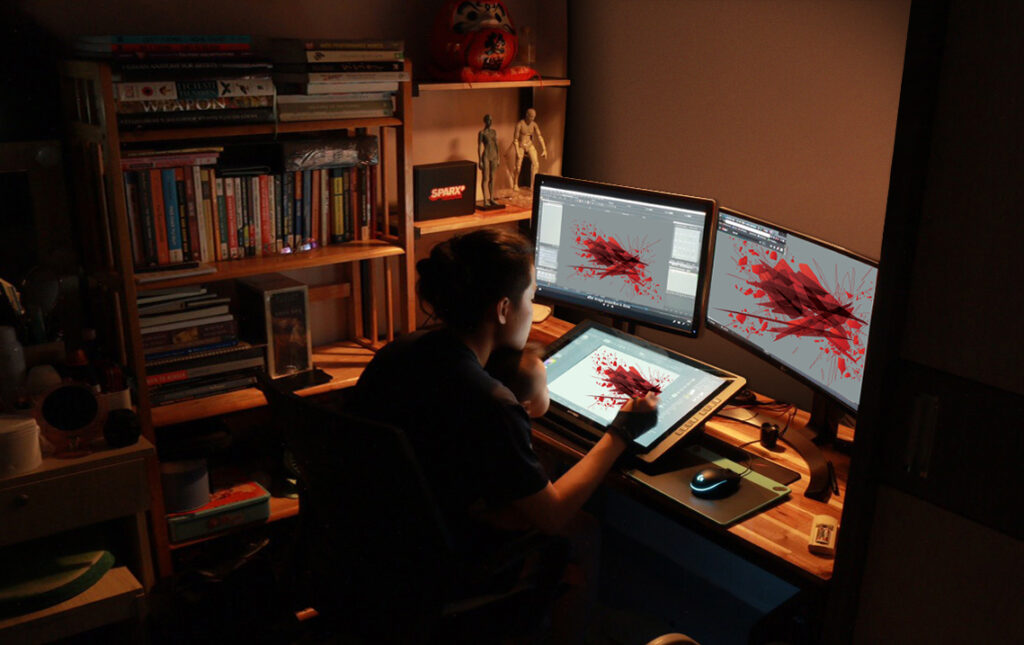 IP Protection
As an external developer, security and client's IP confidentiality at Sparx* is paramount.
Sparx* therefore reached out to the clients for each active project, informing them of their plan to implement remote working for the entire studio and providing details of its execution before formally asking for permission to do so. Only when proper authorization is secured can Sparx* proceed with its plan to send its staff home.
Fortunately for the studio, every single client contacted was willing to allow that to happen, starting with Riot Games. At the conclusion of the remote working arrangement three weeks after implementation, Sparx* had succeeded in maintaining all IT security certificates, Working remotely using the right technical solutions is just as secure and Sparx* observed that the autonomy and trust conveyed to staff translated into greater care assigned to confidentiality.
Productivity
The transition to working in a shared office environment to working remotely from home requires a change in mindset. In the first few days of the remote working arrangement, Sparx* encountered a drop in productivity amongst the staff.
The studio however recognized that the drop may only be temporary, brought on by a 'culture shock' of working from home for the first time. To inspire an increase in productivity, the studio launched several initiatives, including a limited-time event that aimed to encourage artists to hit assigned milestones for set rewards.
These measures, complemented by the studio's culture of mutual encouragement and constant communication eventually brought about a recovery in productivity rates. At the end of the remote working arrangement, Sparx* was found to have completed all forecasted deliverables set for the studio's teams.
"The WFH transition with Virtuos-Sparx* was extremely smooth and well documented the entire way. We were kept up to date on status of blockers and what the team was already doing to address them. Once we made the full transition, it took us one week to get back to the same cadence we came to expect with in house developers. Super impressed!", says Sarah Reinstein – Producer at Riot Games.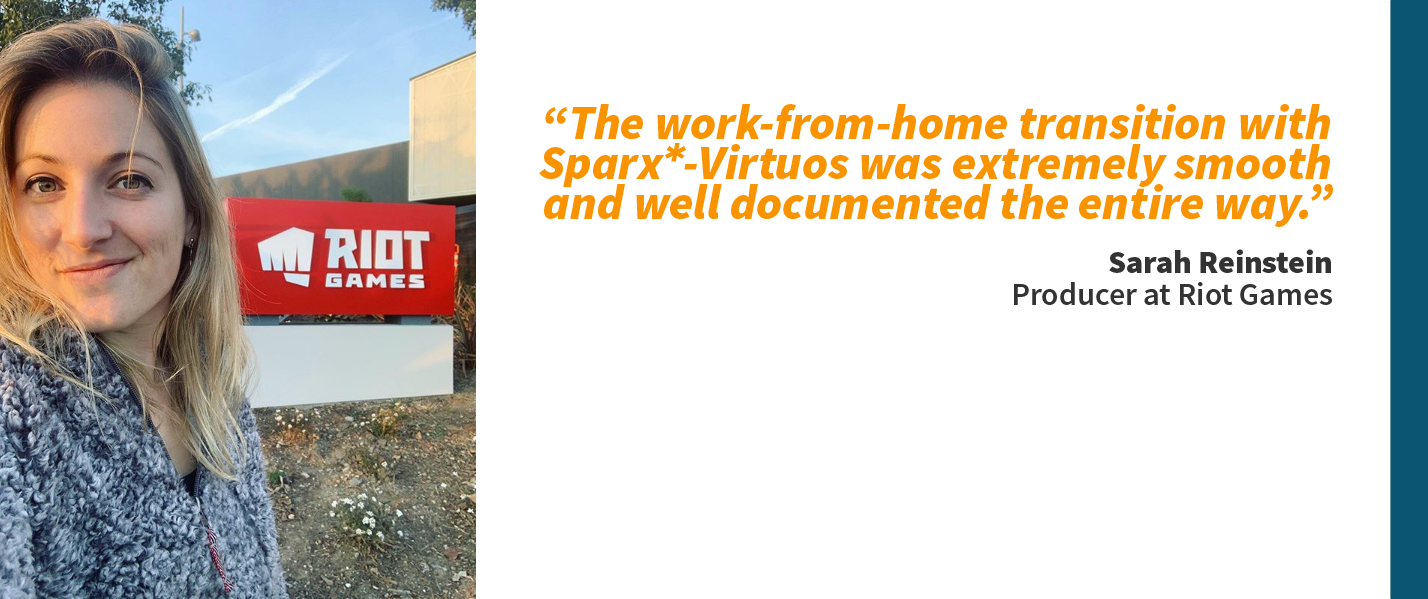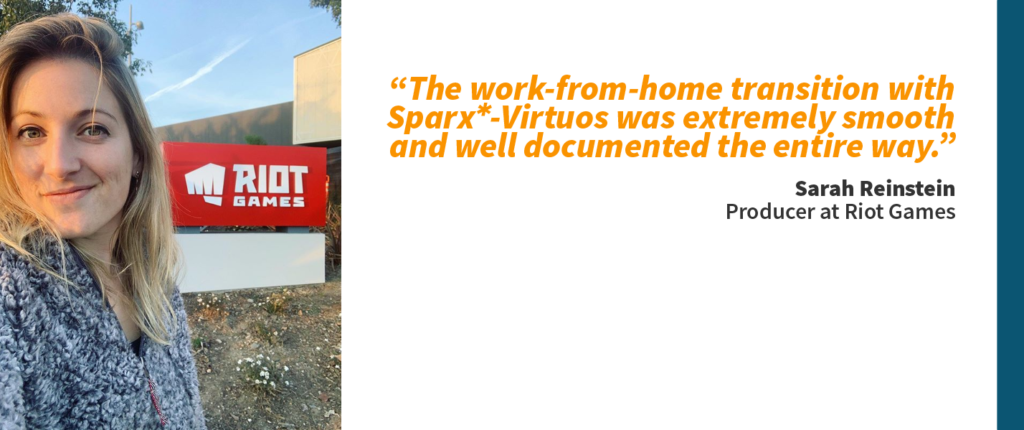 Conclusion
A few data points can be gathered from this experiment in remote working:
Sparx* sent its staff home in batches of 20–25 people, with the last batch dispatched right before the order for social distancing was issued by the Vietnamese government.
Over 400 studio members in total were sent home for the sake of the staff's safety.
The total time taken to implement remote working, from planning to execution, was 2–3 weeks.
The remote working arrangement lasted a total of 3 weeks.
Overall productivity remained at 100 percent.
While Sparx* has been ultimately successful in achieving full remote working capability through effective troubleshooting of various issues, the major contributor for its success is arguably the level of cohesion exhibited by each studio member throughout the experience.
Sparx* boasts great teams not just in its production departments, but also its administrative ones as well – Management, HR, IT and Internal Communications. With their help, the studio as a whole was able to remain alert by actively monitoring the rapidly evolving situation, and react accordingly. The studio-wide communications channels were also set up to be wholly transparent, which allowed for consistent messaging to allay fears and dispel rumors.
Besides the concerted efforts of the administrative teams, the studio culture itself also played a significant role in ensuring a smooth transition to remote working; the ingrained sense of mutual cooperation and morale upkeep became the pressure release valve that kept the studio united in purpose as they remained isolated in their individual homes, complemented by numerous grassroots activities aimed at preserving that connection throughout this period of time. For Sparx*, this was the secret ingredient that made it all possible.
Founded in 2004, Virtuos Holdings Pte. Ltd. is a leading videogame content production company with operations in Singapore, China, Vietnam, Canada, France, Japan, Ireland and the United States. With 1,600 full-time professionals, Virtuos specializes in game development and 3D art production for AAA consoles, PC and mobile titles, enabling its customers to generate additional revenue and achieve operational efficiency. For over a decade, Virtuos has successfully delivered high quality content for more than 1,300 projects and its customers include 18 of the top 20 digital entertainment companies worldwide. For more information, please visit: www.virtuosgames.com
Sparx* is one of the top studios in Asia, providing large-scale production services, creating a superb range of solutions for highest quality 3D Art, Visual effects (VFX) & Animation. Acquired by Virtuos – one of the world's largest digital content providers – in 2011, Sparx* has more than 350 professional artists working on all of the latest tools, engines & platforms. For more information, please visit www.sparx.com