The year-end has been busier than ever for us at Sparx* with so many recruitment initiatives in collaboration with our partner schools. Let's look back at some highlights of the last two months of 2022!
Co-organizing career orientation activities
JOB FAIR
1.Creative Job Fair (November 6)
We were thrilled to meet and greet hundreds of students joining our booth's activities through minigames, Mortal Kombat battles on PS5, cool prizes and advice from Sparx* ambassadors.
A glimpse of our busy Sunday at Creative Job Fair 2022, the hottest event for creative folks.
2. Students and Business Fair 2022 – Ho Chi Minh City University of Science (November 13)
We were delighted to meet and connect with hundreds of computer science students at the University of Science HCMC, Vietnam National University, on the Sunday morning of November 13.
At Sparx*, there is no shortage of opportunities to participate in game art production for industrial and applied art students. We are actually looking for technical art trainees who are familiar with programming languages and can optimize the game development process.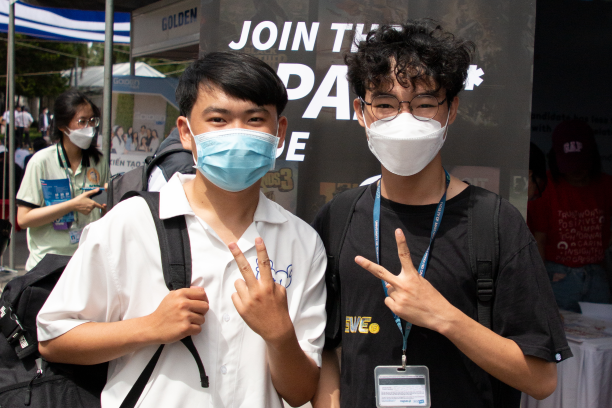 WORKSHOP 'HOW TO TELL YOUR STORY' – FPT ARENA
As an aspiring game artist, how do you build CV & portfolio to impress employers?
On November 1, Nhu Quynh – Senior Recruiter at Sparx*, gave students at FPT Arena excellent advice on improving their applications (CVs, portfolios, and resumes). Additionally, they could learn about the studio's working environment and training programs for freshers.
STUDIO TOURS
Studio Tour is a regular activity for students from Sparx*'s partner universities and training centers. Through this activity, young talent can visit and experience the working environment at one of our country's leading art and game production studios.
At the end of 2022, Sparx* is pleased to welcome young aspiring artists from FPT Arena, VTC Academy HCMC and Arena Multimedia visiting the studio.
1. FPT Arena (22/11)
At the workshop, our General Manager Samuel shared his personal career experience and professional working process in world-class game projects at the studio. We hope that the students have learned fascinating new things as well as being close to the high-class game production environment in Vietnam.
2. VTC Academy TP.HCM (29/11) and Arena Multimedia (22/12)
Aside from visiting the game art production environment, VTC Academy and Arena Multimedia's students brought back home more tips on building a portfolio and how to have an effective interview.
They could learn more about Sparx* training program, through which they can gain different skill sets from well-qualified trainers and get ready to step into top-tier game and digital art production.
CONTINUE TO EMPOWER THE NEXT 'WOMEN GAME CHANGERS'
On November 10, Sparx* held the awarding ceremony of the second edition of its Women Game Changers Scholarships for 8 female students from University of Architecture Ho Chi Minh City, HCMC University of Fine Arts, and Arena Multimedia.
The Women Game Changers (WGC) scholarship initiative aims to empower female students to participate and thrive in the game and film production industry.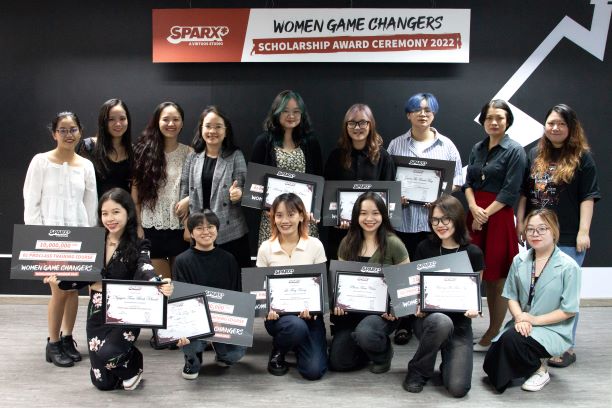 This year, 8 excellent female students from partner schools have been awarded the Women Game Changers scholarships by Sparx*- a Virtuos Studio. Each will receive 10,000,000 VND in cash and one slot in the Pro-Class training program – an online course based on the actual game production environment. In addition, they will also receive additional mentorship to improve their portfolio – which will give them an edge in the game and film art industry.