In our Meet Your Mentor Series, we interview our mentors in the Training Program about the learning opportunities at Sparx* and their advice to new artists.
In this chapter, we chat with Viet Trang, Previz/Layout Team Leader at Sparx*, who has over 9 years working in 3D Art and 5 years in Layout. Trang has been involved in the Layout stage of many widescreen animations like Vic the Viking and The Magic Sword, highlighting series like Rebel and Puppy Dog Pals, and cinematic projects for some unreleased AAA games.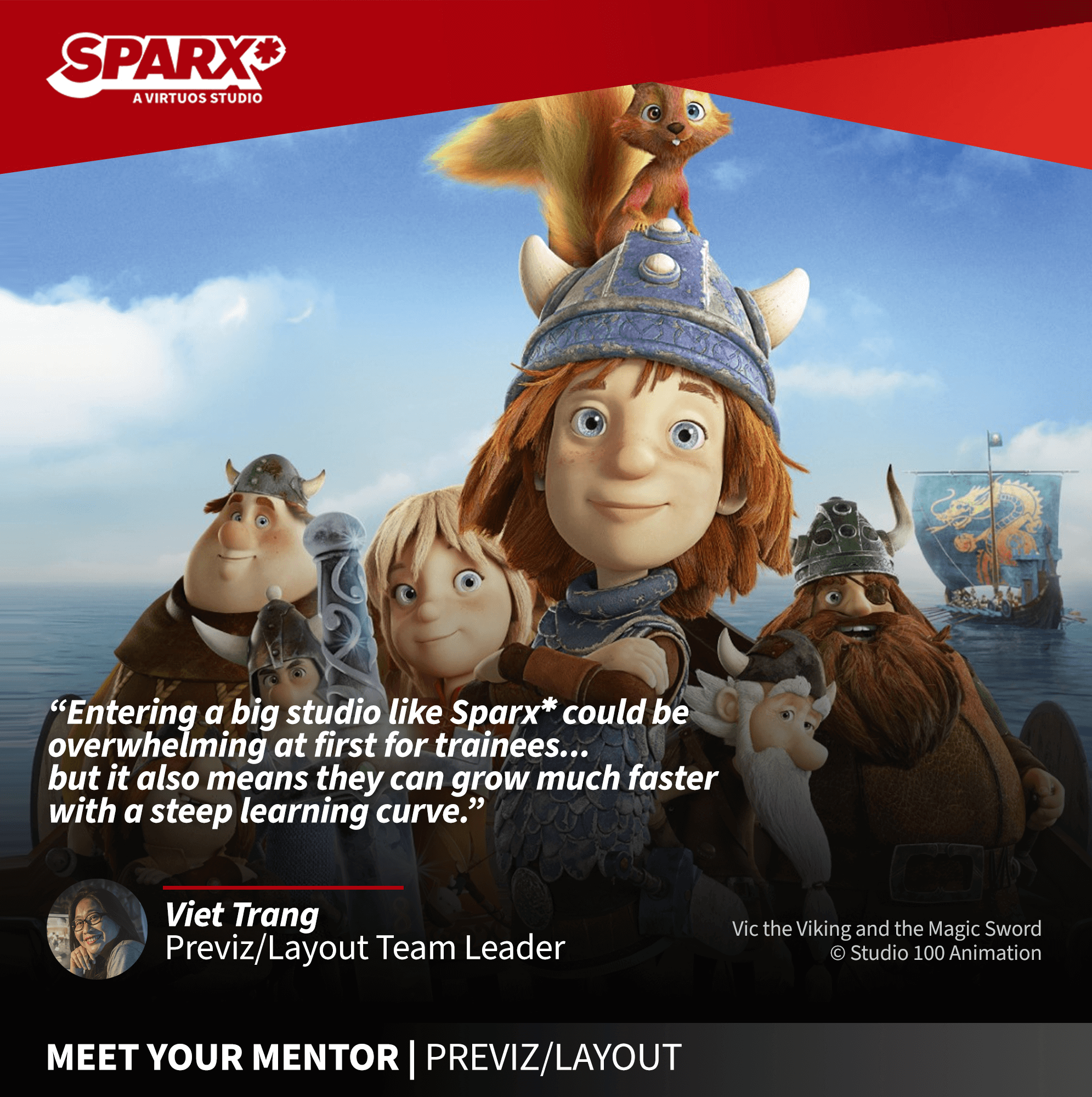 1. What do you like the most when working in the Previz/Layout team?
I like the diverse art style and new workflow, art, and technical challenges when participating in Sparx*'s projects.
My most favorite and memorable project was Star Wars: Rebels, shown on Disney XD Channel. It was also my first project at Sparx*. I tried my best to fit in and push my limits to achieve great results with my team. I was very proud when seeing my name appear on the credit roll as a Layout Artist for the movie. When the series achieved many awards, the Layout Team at Sparx* also received a thank you letter with compliments from the Film Director – Dave Filoni.
2. What are the challenges for the Previz/Layout trainees?
Entering a big studio like Sparx* could be overwhelming at first for trainees when gaining much art and technical knowledge from big projects, but it also means that they can grow much faster with a steep learning curve.
The Previz/Layout Team pays much attention to teamwork and sharing so you can freely learn from each other and grow fast. Your artist goal will become clearer as you understand what you need to cultivate to become professional like senior artists.
3. What are the learning points for the Previz/Layout trainees?
The Trainee Program for Previz/Layout will help you understand more about the art of cinema with golden rules of composition, camera, and director's direction… Besides having technical instruction in Maya and Game Engine, you will participate directly in the Previz/Layout stage when running projects. So trainees can equip with an art foundation and technical practices and learn from practical experiences from projects and senior artists.
4. What is your biggest challenge as a team leader?
My biggest challenge was when my team worked from home while handling a cinematic project of an AAA game. The project required a high standard of technical and art criteria, such as creating beautiful layouts and cameras like blockbuster movies or a high level of Unreal Engine and mocap animation. The biggest problem was how the team could communicate and discuss when the Internet did not work well. The team faced many obstacles outside the plan and prediction. As a team leader, I also felt confused because I could not make effective decisions with these new challenges.
I learned to figure out solutions. I double-checked each problem and brainstormed with the team to figure out the root cause. Then, I proposed proper solutions and got consultation from the team, Art Directors, Technical Artists, and Producers before making the final decisions. Together with the management team, we proactively communicate through different channels to keep in touch and motivate each other.
5. What is your advice for young artists?
You need to remember two things: being resilient and being proactive in sharing.
It's a long run from zero to expert in this industry, and we need to strive for better results every day. We also need to broaden our horizons in this art world and keep our original and youthful artist style.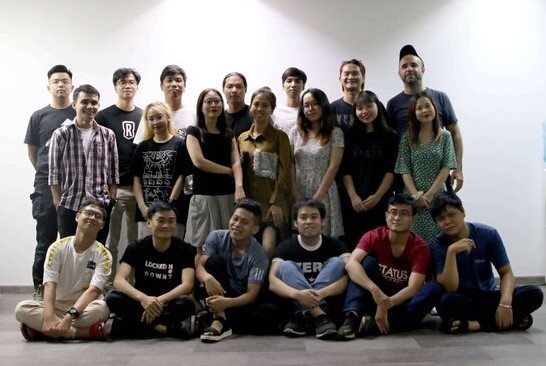 Become a Previz/Layout Trainee at Sparx*
The Training Program supports young people to get closer to the opportunity to become AAA artists by equipping them with knowledge and getting used to their first real projects when being mentored by senior artists of the studio.
As a Layout Trainee, you must have general knowledge of Maya, and a big interest in composition, animation, or cinematography to bring stories to life. Grow your career with us and you will:
Be able to stage shots by animating CG cameras and characters to plan action and timing and ensure continuity and flow between shots
Choreograph characters, environments, and props with attention to composition, cinematic storytelling, following animatic & reference notes
Be able to build a rough environment block out from 2D storyboard with basic shape
What you need:
Good general knowledge of Maya and animation tools;
Strong emphasis on visual art like cinema, animation, photos, and fine art;
Proactive communication and troubleshooting of any creative or technical issues with assistance;
Being curious-minded & flexible;
Team orientation.
What is in it for you:
Add multiple AAA Games, Hollywood block-buster movies, and award-winning TV Series to your portfolio every year;
Join an elite, international team to work with and learn from industry experts;
Collaborate with the world's leading game developers and film studios;
Develop your expertise with exposure to the latest platforms, tools, and technology;
Develop an international career in top-tier digital production within an industry-leading company.
There are a few steps from your application to join the Sparx* side!
Application Submission
CV
A portfolio of demoreel (animation), photography, storyboard or video 3D
Interview with the Sparx* Team