In our Meet Your Mentor Series, we interview our mentors in the Training Program about the learning opportunities at Sparx* and their advice to new artists.
Meet Mauricio, Associate Art Director, Rigging Team at Sparx*, who is sharing with us about his contributions to world-class AAA projects as a Rigger.
Since he was a kid, Mauricio has been interested in understanding how things work and finding different ways to solve puzzles. Like puzzles, rigging to him is about trying to work out things and figure out the simplest solutions for each problem. Joining the studio in 2020, he has been an enthusiastic mentor for many trainees who want to be riggers participating in AAA projects on the Sparx* side.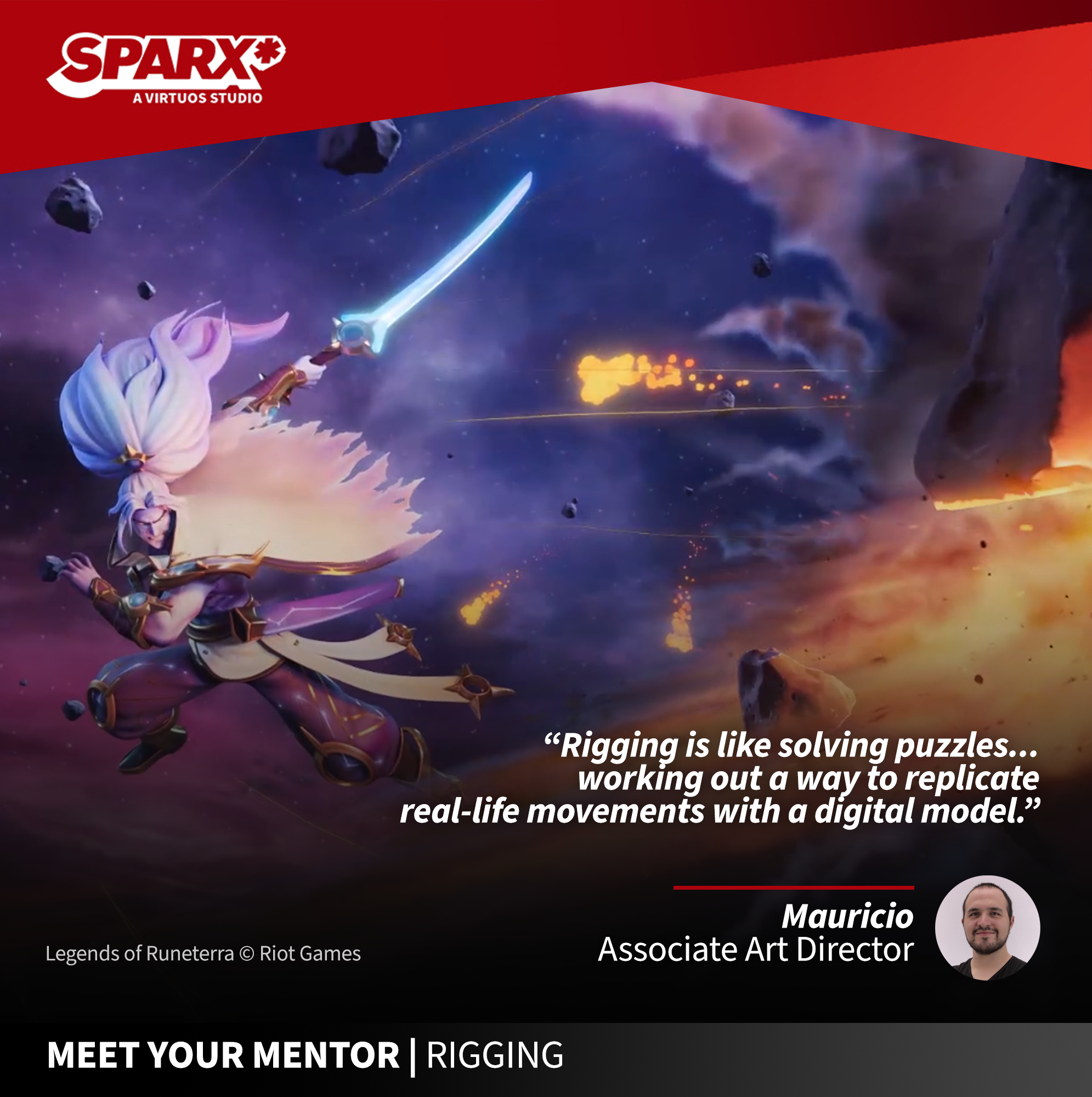 1. What do you like the most about your job – Rigging?
Our work consists of creating digital skeletons for 3D characters and prop models. These skeletons or rigs are like puppets that define the movements of creatures and objects, like a dragon flapping its wings, a person moving his face and mouth when talking, or the wheels of a vehicle rotating.
I enjoy working out ways to replicate the real-life movements with digital models and find the simplest solution for animators to pose characters or props. Since joining Sparx*, I have been taking part in multiple pipelines and projects. Through such collaborations with our partners, I also have the chance to observe and then suggest ideas and solutions improve their workflows.
2. What is the coolest thing about being a Rigger?
One of the best parts of being a Rigger is that you have to learn multiple subjects like modeling, math, scripting, animation, textures, and more. We usually use these skills in our day-to-day tasks. A Rigger needs general knowledge as much as a 3D Artist, and it also means more ownership and paths for career development.
Rigging helps develop your logical thinking skill, which is useful for your job and daily decisions. This skill helps us solve problems, generate creative ideas, and set goals by analyzing a situation from multiple perspectives and coming up with a solution. So it's really like solving puzzles.
3. What do you expect from a Rigging Trainee?
To be a Rigger, you need to be highly organized and solution-oriented. As it's like solving puzzles, you need to test different options before choosing the final rig, and when you become more experienced, you will know which ways you can discard by just looking at the model.
4. What is your advice to the new riggers?
Rigging involves both artistic and technical approaches, differentiating it from other art forms. You need to be able to move around in the Maya interface as a modeler would, such as moving polygons, using layers, grouping in the outliner, creating materials, etc. Those are very similar tasks to what we do as Riggers.
It will be a plus if you know a bit of human anatomy and basic scripting using the node and graph editors or if you can distinguish the type of constraints in Maya.
5. What has been your proudest project on the Sparx* side?
I love working on the in-game cinematics of Riot Games' Legends of Runeterra. I always wanted to collaborate with Riot Games and I finally got this chance at Sparx*. It is my proudest project at the studio.
Another highlighting project was a game cinematic for an upcoming title this 2022, as the team had a lot of room to recommend changes and create tools for better efficiency and quality. As the characters were on the cartoony side, it involved different creative solutions from the deformation required in human models. It was rewarding when we saw our work on the trailer online.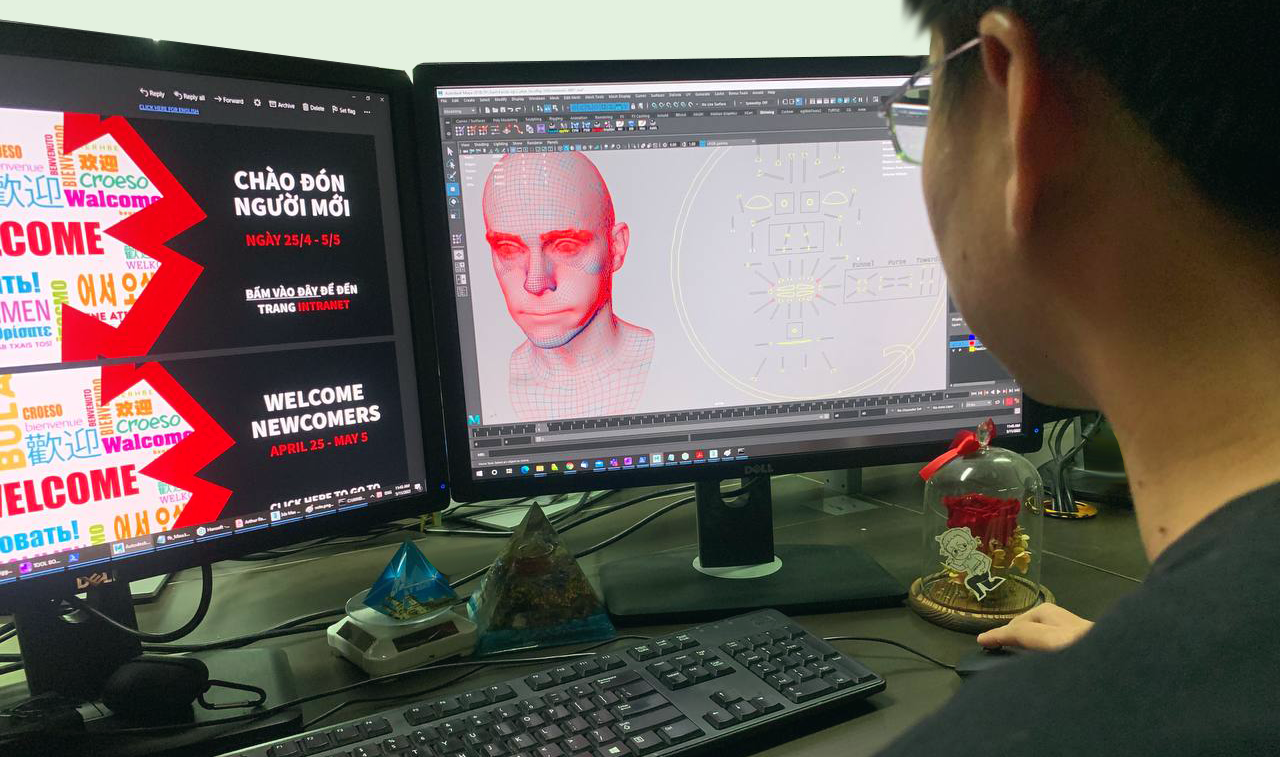 Become a Rigging Trainee at Sparx*
The Training Program supports young people to get closer to the opportunity to become AAA artists by equipping them with knowledge and getting used to their first real projects when being mentored by senior artists of the studio. As a Rigging Trainee, you will be responsible for creating quality game animation setups for various assets, ranging from humans to creatures. Grow your career with us by:
Being trained from basic to advanced knowledge of Rigging
Get exposure to rigging process in AAA film and game projects
What you need:
No experience of Rigging required, as long as you show your interest in Rigging;
Knowledge of Modelling/ Animation and ability to do modeling and animation in Autodesk Maya;
Passion for games, movies, and 3D Art; Understanding of game/film pipelines;
Knowledge of Mel/Python (or both), and human anatomy is a big plus;
Good teamwork, communication skills, and excellent problem-solving abilities.
What is in it for you:
Add multiple AAA Games, Hollywood block-buster movies, and award-winning TV Series to your portfolio every year;
Join an elite, international team to work with and learn from industry experts;
Collaborate with the world's leading game developers and film studios;
Develop your expertise with exposure to the latest platforms, tools, and technology;
Develop an international career in top-tier digital production within an industry-leading company.
There are a few steps from your application to join the Sparx* side!
Application Submission
CV
A portfolio of rigging products or 3D products in Maya or Susbtance
Interview with the Sparx* Team