In our Meet Your Mentor Series, we interview the mentors from our Training Programs about the learning opportunities at Sparx* and their advice to new artists.
As the senior trainer of many Lighting Trainees at the studio, Dang Khoa – Lighting Team Leader's most immense happiness is that he can see how his trainees grow time by time, from their first steps to their first achievements in the industry.
In this installment, let's meet Dang Khoa, who has been with Sparx* through many top-tier projects such as Star Wars Rebels, Star Wars LEGO All Stars, Demon's Souls Remake, Medal of Honor: Above and Beyond.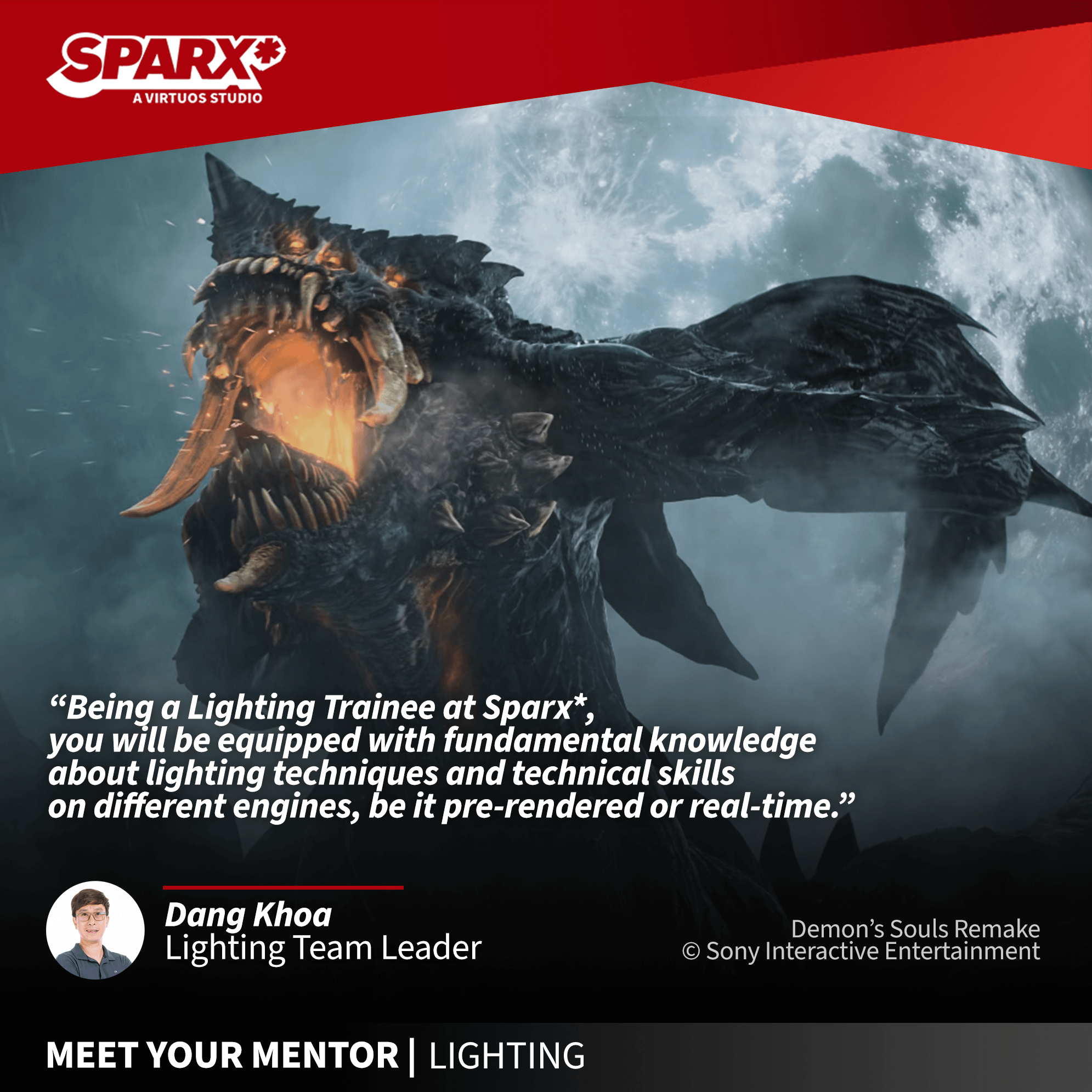 1. What brought you to the Lighting Artist position?
Dang Khoa joined the Lighting Team right after the team was first formed in 2015. At that time, Sparx* aimed to expand its operations to Lighting/FX to take charge of a complete product cycle from modeling to rendering. Even with the high pressure of operating in a new field, Khoa and the team had managed well to acquire new technical skills and knowledge quickly.
2. Please share with us your most memorable milestone at Sparx*.
It was the time we moved from pre-rendered to the real-time pipeline. We had to leave behind our old practices and adapt to the latest approaches from the industry. I am so proud to witness how we overcame those monumental challenges together and achieved encouraging results.
3. What can the trainees acquire through the lighting department's training program at Sparx*?
Being a Lighting Trainee at Sparx*, you will be equipped with fundamental knowledge about lighting techniques and technical skills on different engines, be it pre-rendered or real-time. Besides learning from highly qualified and experienced trainers, you can also get to know other disciplines from other teams, from set modeling, dressing to FX, etc. The curriculum aims to widen trainees' knowledge and provide them with an essential understanding of the full production pipeline. In some projects, trainees can also have opportunities to join training classes from our clients, who are global game publishers, and gets exposure to their unique engines. The entire trainee program is truly designed to build future AAA artists.
4. What is your favorite project at Sparx*?
During my time at Sparx*, Star Wars Rebels is one of my favorite projects with the Lighting Team. It really brought me to a new level in my career, both experience-wise and knowledge-wise. I am proud not only because the series have won so many awards and acclaim but also because we learned the lesson of pushing our limits and growing as a team through that project.
5. What is your advice for young artists?
Self-learning and passion for games or films are the two crucial factors for a Lighting Artist. When you pay attention to watching and analyzing effects in any film or game, you can upgrade your knowledge and views in the art of lighting.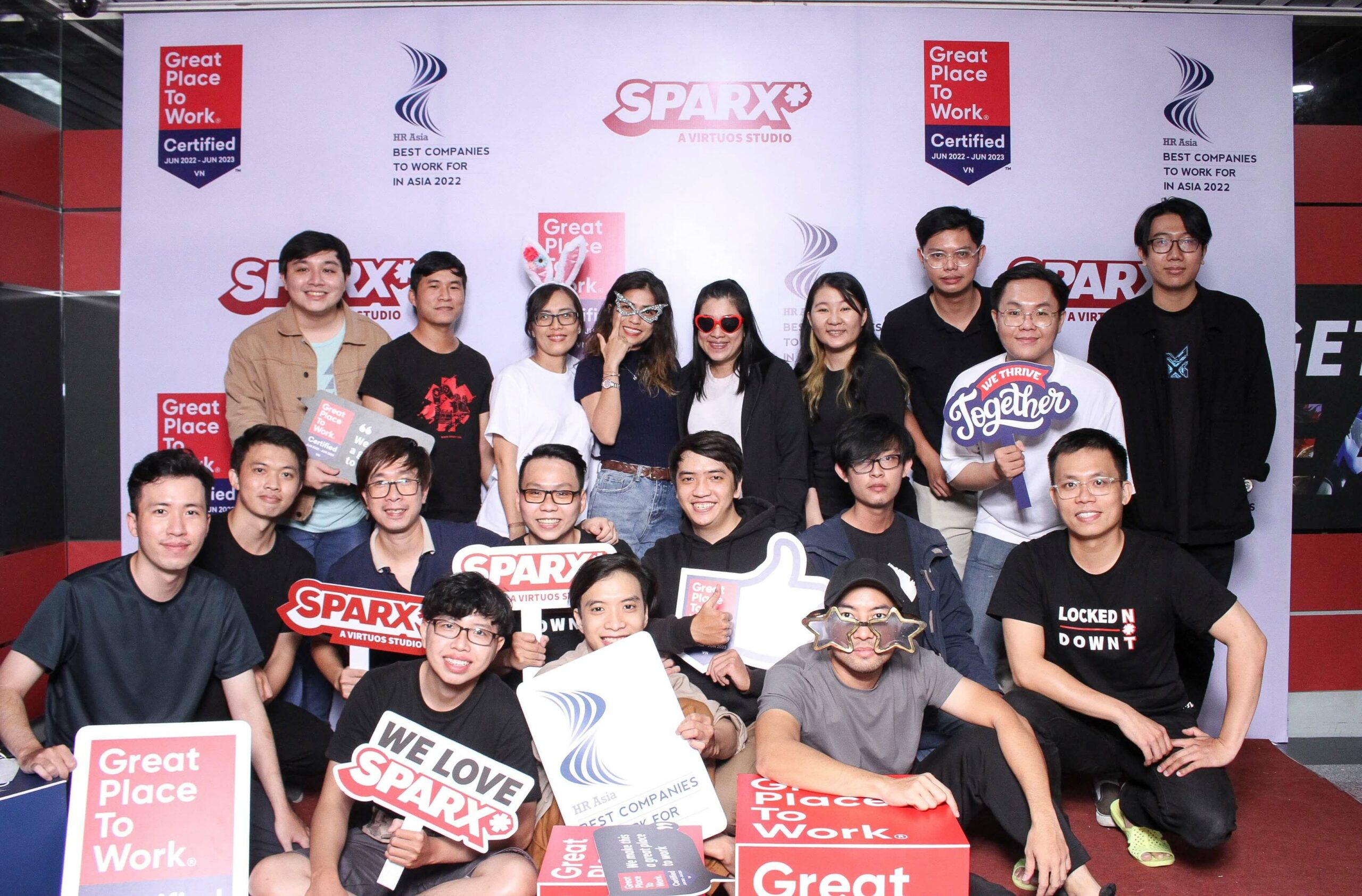 Become a Lighting Trainee at Sparx*
The Trainee Program supports young people to get closer to the opportunity to become AAA artists by equipping them with knowledge and getting used to their first real projects when being mentored by senior artists of the studio.
As a Lighting Trainee, you bring games and films' scenes to life through the use and placement of appropriate light sources. Become a Lighting Trainee and grow with Sparx*:
What you need:
Being interested in games & films, and technology
Ability to set up lighting and use lighting to help convey emotional experiences
Strong emphasis on visual art
What is in it for you:
Add multiple AAA Games, Hollywood block-buster movies, and award-winning TV Series to your portfolio every year;
Join an elite, international team to work with and learn from industry experts;
Collaborate with the world's leading game developers and film studios;
Develop your expertise with exposure to the latest platforms, tools, and technology;
Develop an international career in top-tier digital production within an industry-leading company.
THERE ARE A FEW STEPS FROM YOUR APPLICATION TO JOIN THE SPARX* SIDE!
Application Submission
1. CV
2. A portfolio includes demoreel (lighting) and photographic work
Art & Technical Test
Take the test of lighting placement and mood expression for 3D scenes and 3D objects given in software Maya, Blender, or Unreal Engine.
Interview with the Sparx* Team