In our Meet Your Mentor Series, we interview the mentors from our Training Programs about the learning opportunities at Sparx* and their advice to new artists.
An animator breathes life into characters and beings in games and movies through motion. Not only creating animations, but an animator also works in tandem with other elements such as sounds, lighting, and effects to tell stories and portray their characters' personalities to the fullest extent.
Meet Le Vinh, Animation Director at Sparx*, to learn more about the work of an Animator and the Training Program at Sparx* Animation Department!
Embarking on Animation at Sparx* back in 2005, Le Vinh is one of the most successful animators who started their career at the studio. He also has a significant influence on the animator community in Vietnam. He has worked on and supervised many different teams for high-profile projects such as "Igor" – the first Hollywood animated feature movie with a Vietnamese animation team and several Disney TV series such as "Star Wars Rebels" and "Puppy Dog Pals."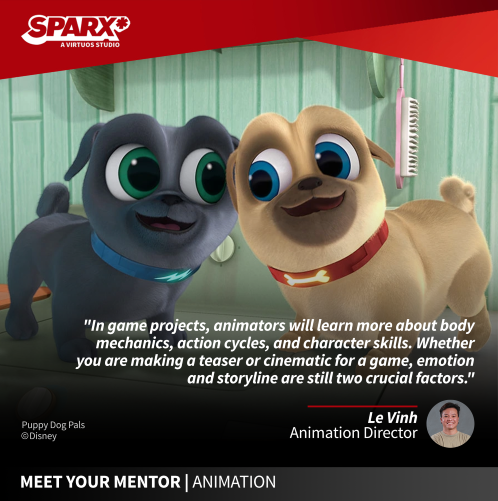 1. What brought you to Animation and Sparx*?
Sparx* was the first company specializing in 3D work I visited as a senior student. I came to the studio to attend the interview and skill test for the Training Program to become a Trainee. My interviewer at the time and also my first animation mentor was Patrice Compagnon, currently Senior Animation Director at the studio. Patrice saw my passion for animation, brought me to the studio, and supported me throughout my training.
After many journeys with Sparx*, I understand that my time and my first lessons at the studio were precious for me in building the foundation for further development.
For me, Sparx* is not only a workplace but also a big home for folks who work for the love of arts.
2. Please tell us what you love most about being an animator!
As an animator, I can experience the emotions of many characters and live vicariously through them. When I am working, in my mind is a series of vivid actions of the characters that only I myself can see. Once I have tapped into their emotions and movements, I use my hands and software to transform those virtual motion sequences into reality.
In a movie, the animation is colored by various emotions of the story. Animators will focus on the performance of the body and the movements of the face and the mouth. The whole team must consistently work together to animate movements and emotions for each character. In game projects, animators will learn more about body mechanics, action cycles, and character skills. Whether you are making a teaser or cinematic for a game instead of a movie, emotion and storyline are still two crucial factors.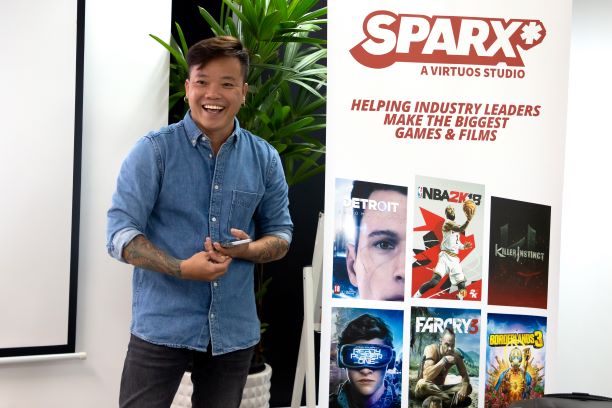 Le Vinh shares about roles and responsibilities of animators in a studio tour for students.
3. What are you most proud of as a mentor in Sparx*'s Training Program?
It's to see our animation interns grow through projects. Some of them have become team leaders who are now mentoring the next generation of animators, while others are taking on new challenges in new environments or even working abroad with remarkable achievements.
4. Can you tell us what is special about the Training Program for Animation Interns?
The Training Program is designed with assignments that vary from basic to advanced levels to help our interns acquire the principles of animation while they master their skills by working on projects at the studio. A solid foundation is the key to helping them move on to more advanced and in-depth animation training.
With the support of their team leaders and Animation Directors, trainees will be able to directly participate in the production pipeline with clients. Therefore, they will have the time to hone their professional skills, learn from their seniors, and apply what they have learned to create animation.
At the beginning, new animators are often overwhelmed as the projects are most likely out of their league. Don't get too worked up, though. Our senior animators are always ready to help. The important thing is keeping a professional attitude and a willingness to learn and grow with the job.
5. Do you have any advice for new animators?
If you are passionate about animation and decide to pursue 3D animation, you can start exploring the animation landscape in Vietnam. It's not too difficult to find the foundational knowledge from animation training schools and centers.
As a trainer, I expect my trainees to be serious with their work – which means being disciplined with their assignments, watching industry-relevant films or doing their own research to help with their training.
You are definitely going places if you can build a solid foundation of knowledge and skills from the very beginning.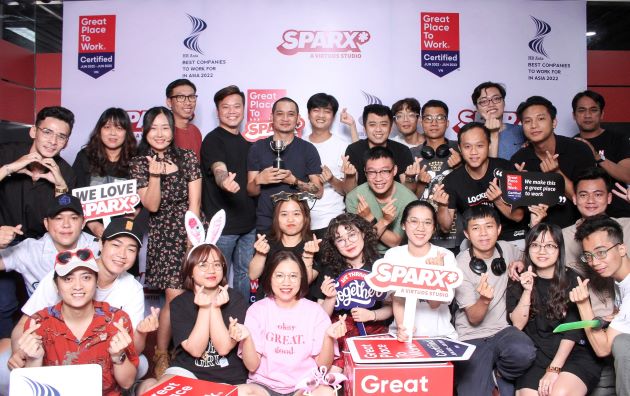 Become an Animation Intern at Sparx*
The Training Program supports young people to get closer to the opportunity to become AAA artists by equipping them with knowledge and getting used to their first real projects when being mentored by senior artists of the studio.
As an Animation Intern, you breathe life into characters and beings in games and movies through motion. Not only creating animations, but an animator also works in tandem with other elements such as sounds, lighting, and effects to tell stories and portray their characters' personalities to the fullest extent.
What you need:
Experience in making animation with Maya;
Have knowledge and understanding of making animation for characters; understanding of body mechanics;
Willing to receive suggestions from the team lead to accomplish your work;
Graduated from schools specializing in 3D Art/ Animation or had at least 6 months of working experience in animation.
What is in it for you:
Add multiple AAA Games, Hollywood block-buster movies, and award-winning TV Series to your portfolio every year;
Join an elite, international team to work with and learn from industry experts;
Collaborate with the world's leading game developers and film studios;
Develop your expertise with exposure to the latest platforms, tools, and technology;
Develop an international career in top-tier digital production within an industry-leading company.
There are a few steps from your application to join the Sparx* side!
Application Submission
1. CV
2. A portfolio of animation demoreel
Interview with the Sparx* Team